THE SOLUTION
45-minute deployment
Lima-based Quipu Consulting, a technical solutions provider specializing in image processing, artificial intelligence and other next-generation technologies, led the project. Quipu recognized early on how Camio real-time video search and alerting used for tailgating and other security functions could easily help with Covid-19 mitiga- tion regulations and compliance. Because Camio is a Software-as-a-Service platform that uses existing cameras, it took less than 45 minutes to "light up" cameras at Cemin's remote mining locations without being on premise. Cemin did not need to purchase any additional hardware and wait for delivery and installation. The Camio Box VM runs on their existing VMware ESXi servers.
Real-time video search
Camio's real time video search immediately detects areas where Covid-19 mitigation protocols are not being met. Entering simple natural language queries like "too close without mask" into the Camio search box reveals potential problem areas.
AI-driven insights
Camio uses AI and machine learning to turn regular 2D cameras into 3D sensors capable of detecting the distance between people. It anonymously tracks people as they move on a virtual 3D floor-plane grid — analyzing movement without storing any personally identifiable information (PIil. Measuring distance is safer than taking temperatures since people without fevers can still be contagious. And even when people are 6-feet apart, Camio automatically detects whether they are wearing masks.
Interactive dashboards
Real-time dashboards track the rates at which people wear masks and maintain social distance to measure policy effectiveness. Camio "Event Streaming" pushes only important events directly to the Cemin team, who view alerts on their desktops or phones. "Event stacking" condenses and summarizes contiguous events, so time isn't wasted reviewing unimportant or acknowledged events.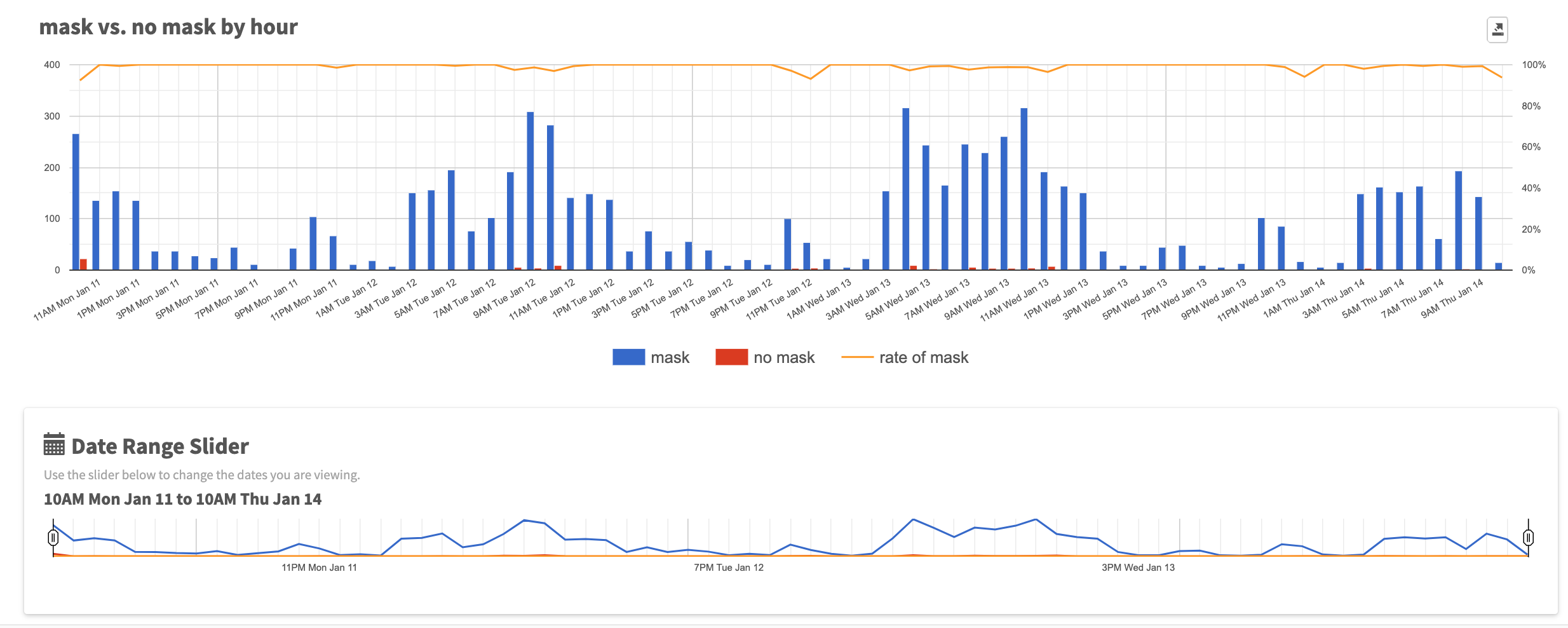 Modern IT security
Security best practices such as TLS encryption with Perfect Forward Secrecy and 256-bit AES encrypted storage meet the most stringent IT requirements. Remote access is secure with no open in-bound network ports, and Camio operates securely by isolating the camera network from the corporate network.
Usage-based pricing
Camio's usage-based pricing makes actively monitored safety affordable. The flexible usage model also enables resources to be shifted precisely where and when needed. Query filters like "human or vehicle" optimize ROI by monitoring only the events related to the risks being mitigated. Camio scales to any size, so there Is no limit to the number of cameras. Storage is equally scalable and can be retained on-premise or in the cloud for as long as required.